11 o'clock Saturday morning and I was ready to display the Cambridge Open Studios' yellow flag and open my studio door to visitors. There's a school of thought that says artists taking part in "open studios" shouldn't tidy their workspace as it gives a false impression to visitors – but I like to display my work well, so I did give the studio a spring clean. Not just for visitors - I like it tidied up - the fact the studio was to be open to the public was the catalyst which made me get down to sorting things out.
So for all of you who can't get along to the open days, here is my desk where I cut the blocks and do the printing.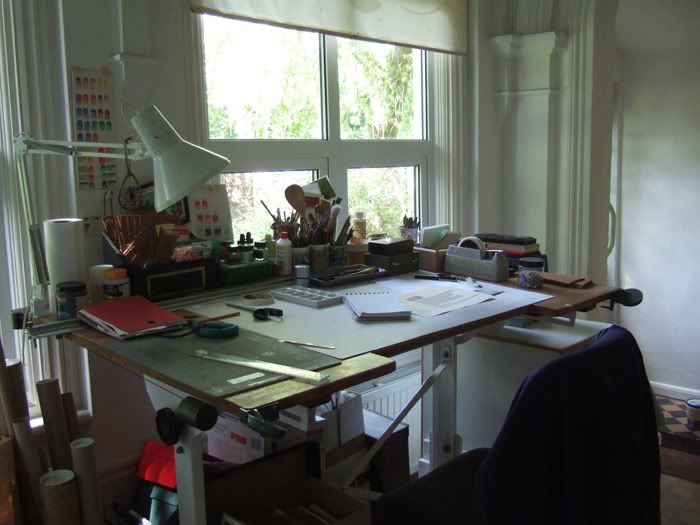 And this is my giant plan chest for storing paper and finished prints, on the top is my toolbox, inks. Also displayed on the plan chest are sketchbooks, working drawings and trial prints.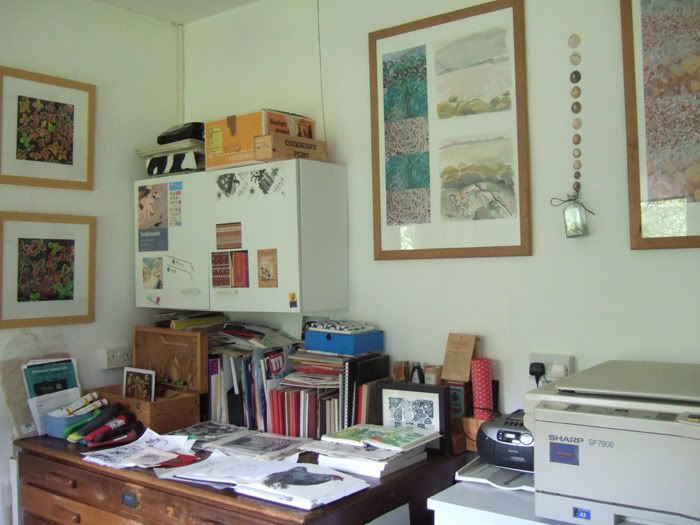 The pictures on the walls are two ink paintings of coleus seedlings: Variegations 1 and 2; and a selection of watercolour sketches and photographs of the Western Isles from our holiday last September - beaches on the west coast of South and North Uist, studies of colours and textures. I am pleased that they are now on display - I'm sure having them on view will inspire some new work. Tidying up is not just for the benefit of visitors - it is good for the creative process too.