On Saturday we decided to visit some of the studios we hadn't seen before, and as it was such a glorious day we chose to drive to the north of Cambridgeshire and the village of Prickwillow near Ely, where there were four studios open. We approached Prickwillow via the Great Fen Road, coming down from the high ground (7 metres above sea level - you have to adjust to a different scale in the fens, the landscape consists of subtle changes of level and the sky dominates the views) we drove between the fields of black soil planted with lettuces, onions, potatoes, sugar beet and wheat, the road just higher than the fields, we were at sea level or below, 400 years ago water covered this land with only small low islands and ridges remaining dry. Today the water is channelled in a grid of deep dykes around the fields and into larger lodes and levels then into the rivers and out to the North Sea, pumping engines constantly working to keep the fertile land dry.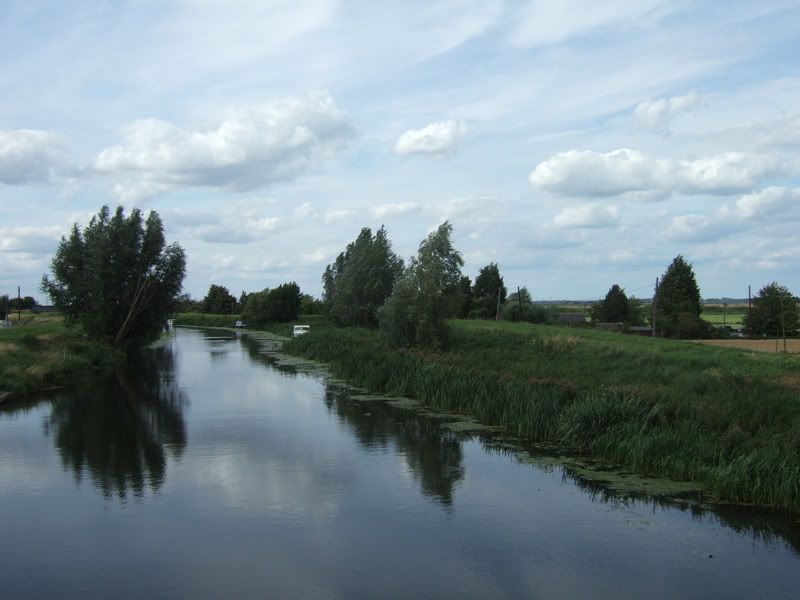 Prickwillow is at a junction of roads, dykes and the River Lark; the old Victorian steam powered pumping engine house is now The Fen Drainage Museum. The scene was bright and peaceful, the delicate man-made balance of water and land was tranquil today and in the sky a constant procession of fluffy white clouds were a gentle reminder that nature could take control.
We visited a pottery studio and learnt that by using the ash from different species of tree subtle colours could be created - my favourite was the walnut ash which gave the glaze a soft blush of pinky mauve. We went on to a sunny coservatory where we chatted to an illustrator, painter and printmaker whose use of colour and line reflected those in the surrounding landscapes; by contrast the next studio was a stunning modernist house/studio the huge windows shaded on the outside so that inside it was cool and airy, no wonder the artist was inspired by fen skies! Sharing this studio was a botanical artist who also worked in collage and created beautiful textured works inspired by bark and leaves. Our final destination was another surprise and in another amazing modern building, still being constructed this iron clad house looked out across the fields with a constantly changing skyscape, the artworks on display were inspired by forces of nature - rocks, fire and water in Iceland and the air, water and black earth outside the window.
It was the final weekend for Cambridge Open Studios 2007, but there will be exhibitions and events leading up to Christmas and then it will be time to prepare for COS 2008! The Open Studios yellow guide book is a directory of all the artists who took part this year, all the artists are happy to be contacted about their work whatever the time of year.