Here's another good outcome of the studio tidy-up - I found lots of small off-cuts of lino and decided that I should use them for some experiments on a small scale, and they would be perfect to have as "work in progress" over the Cambridge Open Studios weekends. I usually plan a print in detail before I start cutting, with the mini-prints I would try out various techniques I'd gleaned from looking at other printmakers work.
I chose two pieces of lino and cut them to exactly the same size 10 x 13cm. On one block I cut little lens or leaf shapes - subconsciously this shape recurs over and over in my pictures, it seems to have become my signature. Between the little "leaves" I cut swirling lines like the brush marks in a sky painted by Van Gogh.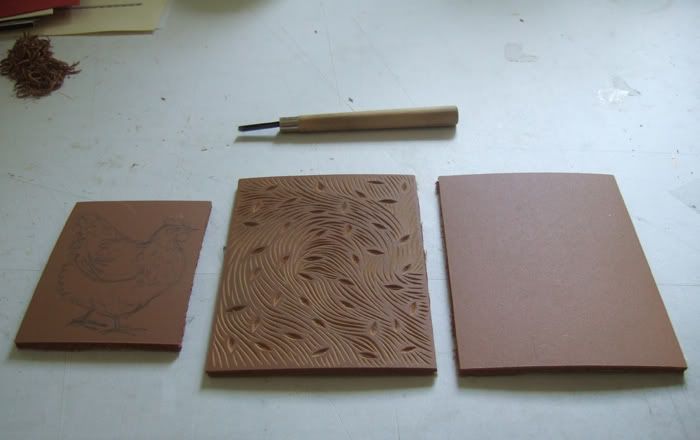 I printed the plain block in a pale grey, dabbing the ink onto the block with a sponge (it was too close to opening time on Sunday to get out the sheet of glass and roller, besides it was only a tiny block). I pressed the paper onto the block using the palm of my hand. The result was a texture like lichen on old stonework.
I inked the patterned block with pale green and positioned the block exactly over the now dry grey mottled background. This time I pressed the paper against the block with the baren - to achieve a more definite impression. And here's the result . . .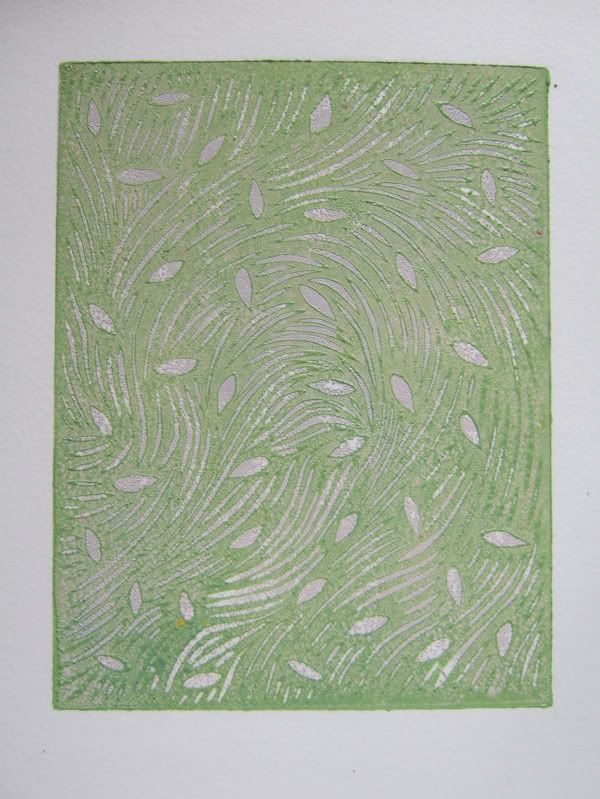 On an even smaller lino block I did a little pencil sketch of one of our Maran Cocou hens who was standing by the studio door. I don't usually sketch straight onto the block as the result will be a mirror image and I like to visualize how the finished print will look. It was fun to start cutting the 'hen' block before I had any real plans for how I'm going to use it - but there are lots of possibilities. These are the start of my mix-n-match mini-prints series.