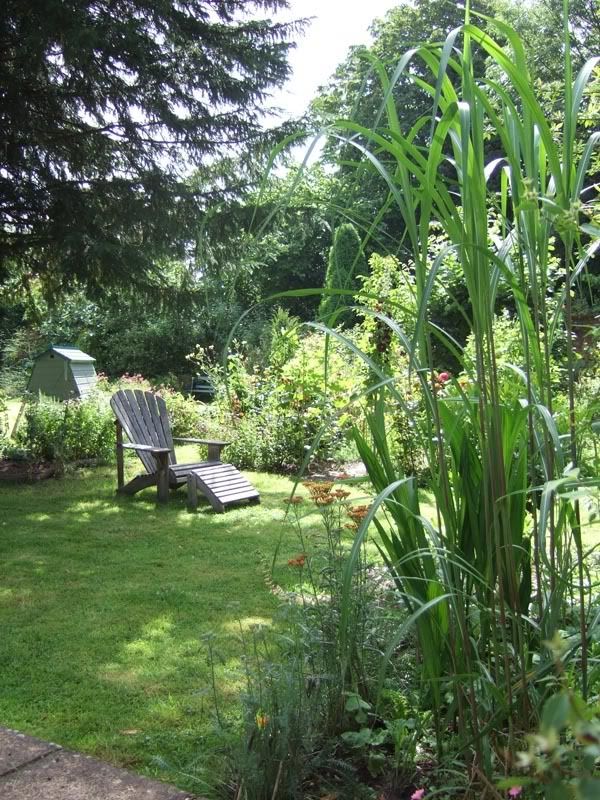 Recently both Christa of
Calendula and Concrete
and Fiona of
The Cottage Smallholder
tagged me for seven random facts about me and my garden and then "tag" seven other garden blogs – I feel like the new kid in the playground where everyone has already been "It"!
So here goes with my seven random facts:
1) I like big, tall plants - Giant Golden Oat (stipa gigantea); Colewort (crambe cordifolia); Angelica; Lovage; Hollyhocks . . .
2) My gardening heroes are
Joy Larkcom
because when I read her books on vegetables, salad crops, oriental vegies and potagers I always learn something new and
Piet Oudolf
who orchestrates plants like no other garden designer - awesome!
3) The garden I'd most like to swap with mine is at
Sooke Harbour House
on Vancouver Island - it has everything I like a garden to have - unusual edible plants, wildlife (sea otters play in the borders near the beach!) and sublime views (the Olympic Mountains across the Juan de Fuca Strait).
4) If decorative plants need special soil or extra water to survive in my garden I don't grow them.
5) Picking vegetables, fruit and herbs from the garden, cooking them, then sitting in the garden in the sun and eating them is my idea of heaven.
6) I learnt the names of wildflowers before I went to school.
7) I like weeding.
And here, in no particular order, are my choice of blogs:
i'm over broccoli for the moment. it's all about the rainbow chard, baby!
a cool name for Princess Veggie's blog
mostlymacro
insects are beautiful too!
Mustardplaster
beekeeper and heritage veg grower Miss Hathorn's blog
Musings of a textile itinerant
an artist and gardener in Australia
Cherrapeno
yummy recipes
Nourish Me
more yummy recipes - veg gardeners always need new ideas to deal with a glut of courgettes!
shirls gardenwatch
wildlife in a Scottish garden
The rules:
Each player starts with 7 random facts/habits about themselves. People who are tagged need to then report this on their own blog with their 7 random facts as well as these rules. They then need to tag 7 other garden blogs and list their names on their blog. They are also asked to leave a comment for each of the tagged, letting them know they have been tagged and to read the blog.