"Oh I'd love to keep hens!" this statement is usually followed by questions about henhouses and feed and poultry breeders. Then "What do you do when you go on holiday?". The answer is to find another henkeeper and swap holiday henkeeping duties. Hens like routine, and so long as their daily habits aren't disrupted they are happy.
So in return for the under-gardeners (and studio assistants) being kept clean and well provided for when we are away it's our duty to do the same for this grand gentleman and his seven wifelets!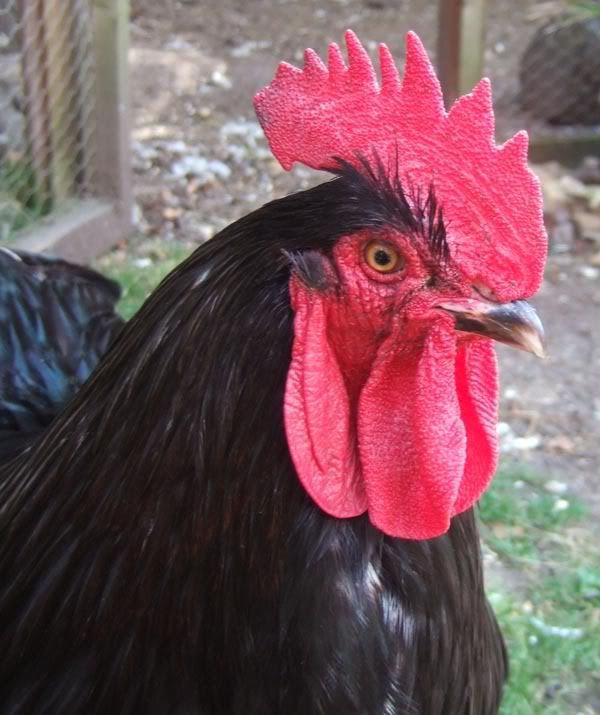 Over the past few weeks I've enjoyed being waitress and house-maid for a neighbour's Black Cochin cockerel and his harem. He purrs in a deep Barry White voice. "Look! Look!" he makes sure they know I've put the corn feeder out for their supper. "Look! Look! Look!" he picks up the chicory leaves I've brought them and sees that each wifelet is pecking contentedly. They've been confined to a shady hen-run beneath a plum tree, but I could see them longingly gazing at the green lawn - so I let them take a stroll before bedtime. He struts as if he's wearing high heels, billowing trousers and shiny tail-coat - he's escorting his girls on an evening promenade. Then the wifelets are ushered back to the henhouse and he sits in the doorway, red wattles resting on his shimmering mane of feathers, surrounded by his adouring ladies. It's been a pleasure sir!