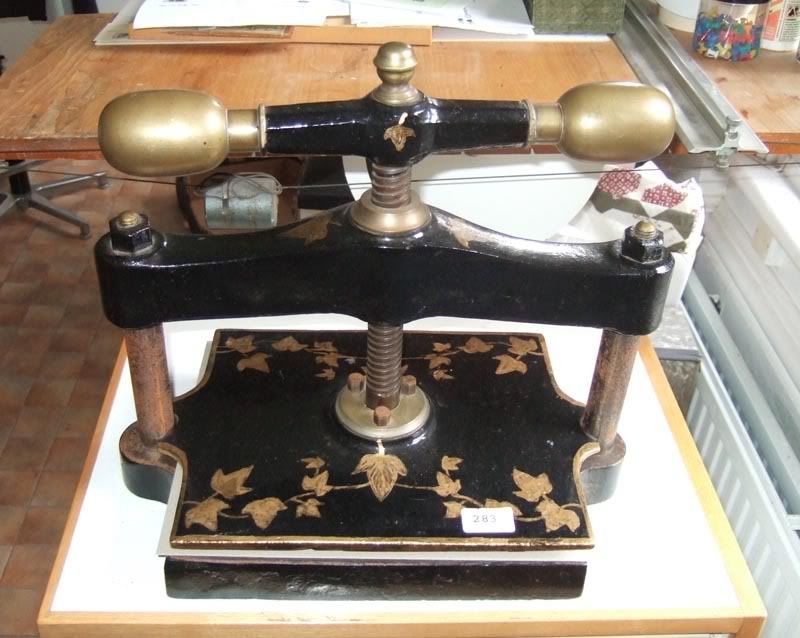 I love looking round auction showrooms, there's a list of things to look out for tucked in the back of my mind. So I was very excited to spot 'Lot 283 – A Victorian book press' at
Willingham Auctions
last Friday. It screamed "BID FOR ME!!!!!!".
So I returned to the auction rooms on Saturday and waited for Lot 283. The range of items for sale is huge: garden furniture, wind-up gramophones, furniture, paintings, medals, jewels, teddy bears, top hats . . . At some other auctions the auctioneers are very serious and the saleroom can be hushed and solemn; not here - there are always a few jokes, giggles about spelling errors in the catalogue, amusement when someone buys something unusual "a top hat sir? - that will go nicely with the spear!". I have to pretend not to be paticularly interested in a specific item, just generally interested and casually alert (the card with my bidding number is tucked into my bag).
We get to 'Lot 239 - Three Victorian shaped copper jelly moulds', I fancy those too especially after hearing a fantastic radio programme a few days ago about the art of making posh jellies. Maybe I'll bid. "There's been a lot of interest in these . . . a couple of close commission bidders . . . we start at £150" Oh heck! better save my money for Lot 283 - my card stayed in my bag. The auction whizzes along - almost a hundred lots per hour, and I soon hear "Sold 'BANG!!' . . . your number . . . thank you . . . Lot 283 . . . " the adrenalin kicks in. I musn't look interested, stay calm, let others start then come in third or fourth, make sure I can catch the auctioneer's eye just before everyone thinks it's about to be sold. There's someone round the corner by the door bidding against me, I can't see them, the bidding ping-pongs back and forth between us "It's the lady's bid . . . any more . . . £95 any body . . . still with the lady . . . SOLD 'BANG!!' sold for £90 . . . your number . . . thank you . . . Lot 284 A collection of lace making tools . . ." Got it!! It's mine! Hurray!!
So the 'Victorian book press' is now sitting in my studio. It will take a sheet of paper just bigger than A4, perfect for using as a mini block printing press, or pressing folded cards and booklets. I was curious to find out a bit more about my new gadget - there isn't a makers mark visible (probaly painted over when it was restored by a previous owner - the leaf decoration isn't original). In fact it should be called a 'Copy Press' and was the must-have piece of office equipment in the 19th century, an early forerunner of the photocopier it's an antique copying machine. When office correspondence was hand written in pen and ink a copy was taken by laying a sheet of very thin slightly damp paper over the original document and pressing it in the Copy Press. An image of the document was transferred to the damp paper and could be read through the reverse side. Of course with the introduction of the typewriter and carbon paper the Copy Press became obsolete, and they gathered dust in office cupboards before being taken to the local junk shop. It's now my latest piece of studio equipment - in these days when a new gadget is out of date in a month it's very pleasing to use a machine that's been around for 150 years.