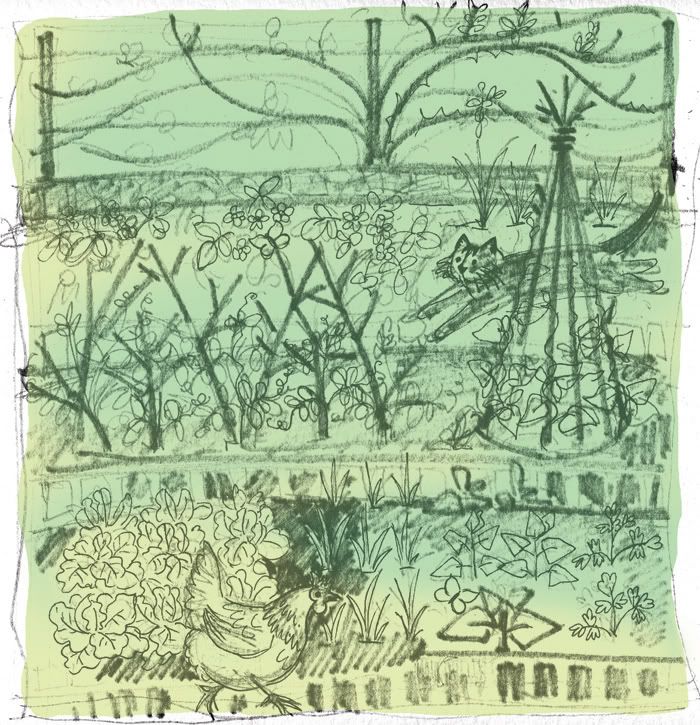 This is the sketch for one of my new linocut prints "Spring Garden" - a typical scene in my vegetable garden on a late spring evening. The "Winter Garden" print is the image I chose to be next to my entry in the Cambridge Open Studios 2007 Guide. If you live in and around Cambridge you'll soon see the distinctive long, narrow, yellow guide books listing all the studios and exhibitions that will take place. It also has the contact details and an example of their work of about 250 artists working in all types of media, so it's a great book for browsing through.
The first date in my diary is the Launch Exhibition on Saturday 23rd and Sunday 24th June at the Jaguar Showroom, Marshalls, Newmarket Road, Cambridge. This is a chance to see a selection of work from the artists taking part this year and perhaps make a list of the studios you really want to visit to see more.
My own studio will be open on 14th & 15th July and 21st & 22nd July as well as seeing all the paraphernalia that an artist accumulates, there will be limited edition prints (framed and unframed) and cards for sale. Click on the Cambridge Open Studios link on the right to find more information about all events and location maps.