The studio assistants had arrived for 'work', but had disappeared. I could hear Chester snoring, and had briefly searched the office without success (he sometimes sleeps behind the printer). The weather has suddenly changed from glorious Autumnal sunshine to drippy grey drizzle and the forecast says it's set in for the rest of the day, it's the sort of day when a cup of hot tea is essential for creativity. On my way to the kitchen I spotted two furry tassels* at the bottom of the sashiko throw that's covering a small bookcase!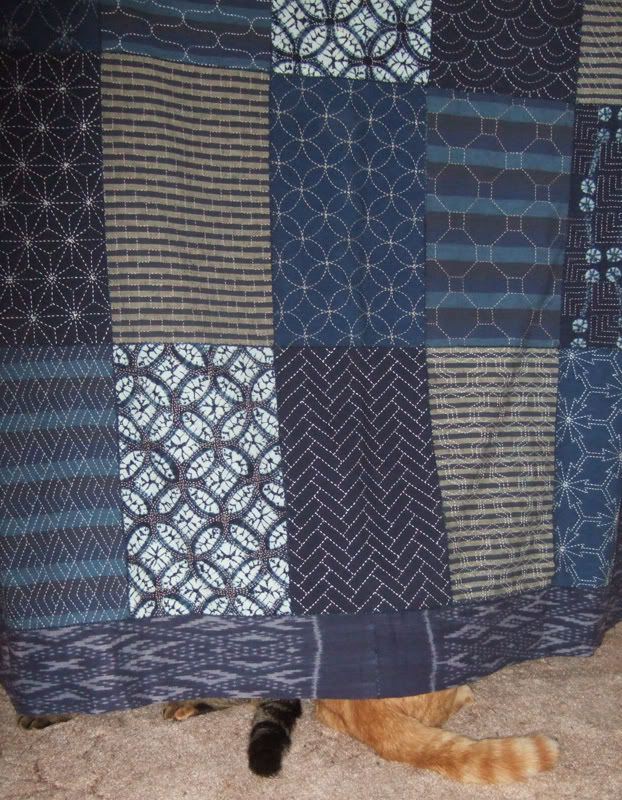 I discovered
Sashiko
on my visit to Japan a few years ago. While in Takayama I found bundles of indigo dyed fabric remnants for sale in a market; later, in a street of traditional wooden buildings I came across a shop specialising in sashiko - so I bought some thread and a folder of patterns. Back home I transformed the fabric remnants into a sampler of sashiko stitching - my Takayama holiday souvenir.
* For those of you who have read
the tale of the tail
, you may have noticed that Chester now has a magnificently fluffy ginger tail of which he is very proud.