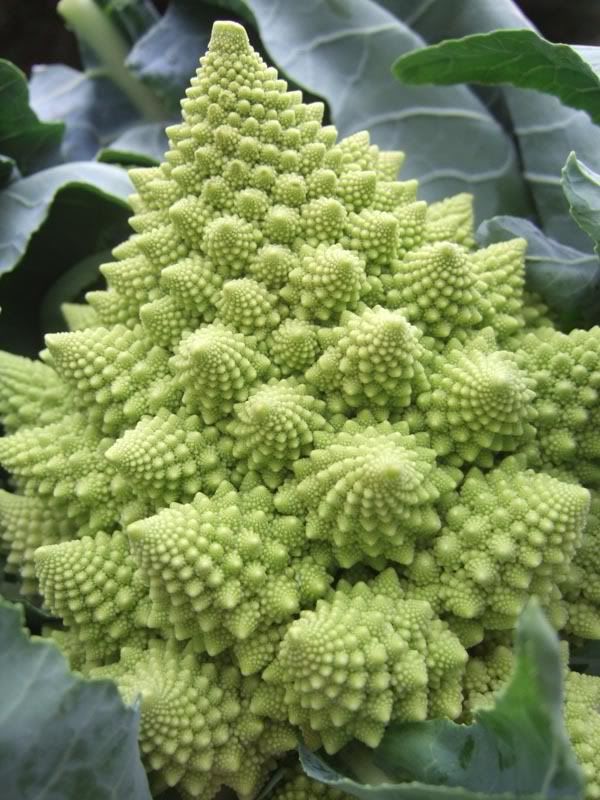 There's a vegetable stall in a farm gateway on the outskirts of one of the fen-edge villages I often drive through, and this is my favourite place to shop for fresh local veg. The stall (a converted shed) has been closed for the summer (holidays and harvest time), but today it was open. For £5 I bought a bag of large red onions, a bag of parsnips, a huge bunch of extra long leeks, 3 giant sweetcorn and this - a beautiful
Romanesco Broccoli
or Summer Cauliflower. What a fantastic geometric sculpture of a vegetable!
I've just finished reading
Seed to Seed: The Secret Life of Plants
by Nicholas Harberd and as I drove home I began to think about the sequence of growth that must have created the Romanesco flower head. I'd picked the book up in a bookshop which had a "3 for 2" offer and needed another book to add to the latest "Number One Ladies' Detective Agency" story and a wartime romance for my mother; it looked intriguing and the blurb on the back had enthusiastic reviews by those respected gardeners Penelope Hobhouse and Anna Pavord. It's written as a diary over the course of one year and is an insight into the thoughts of a research scientist and his discoveries about how plants grow. Anna Pavord sums this up far better than I can:
'It's another world. Another language. But Harberd has the gift of connecting us with it . . . What Harberd's book gives us clueless amateurs is a huge sense of awe at the extraordinary and brilliant machinery that regulates plant growth'.