Whatever you call them they are the vegetable of the season. This is our 2007 Squash Harvest. The huge dark green one is the fabulously tasty "Zucca Marina di Chioggia" (and with a name like that so it should be!), such a shame there's only one. The lovely stripy yellow ones are "Winter Festival" - not quite as flavourful but a good size to cook stuffed. The lovely dark orange one with the grey/green centre was a bit of a surprise! Either I lost the label or it was a rogue seed. If anyone recognises it, please let me know.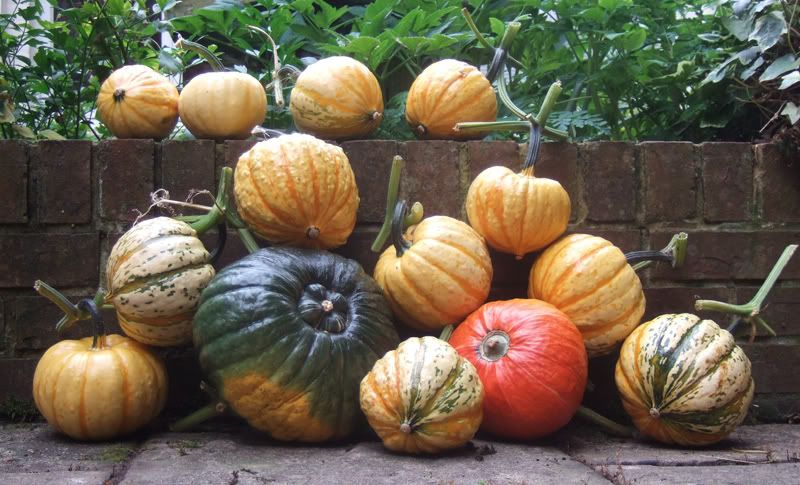 On a cold dark autumn evening what could be better than squash risotto, or squash and potato mash, or squash soup, or squash added to a curry or tagine, or these squash, raisin and pecan muffins.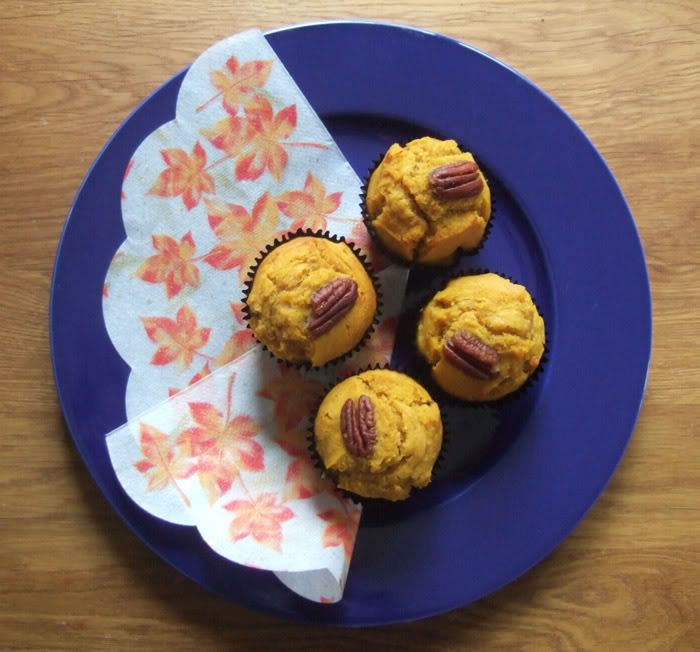 Hannah
has requested that I post the recipe (I'm in awe of Hannah's baking skills, so if you want to see some treats visit her blog). So here goes, I haven't time to unscramble the mixed measurements - this is just how I do it!
In a bowl sift 5 oz plain flour (I used half wholemeal/half white), half a desertspoon of baking powder, 1 and a bit oz caster sugar and a sprinkle of mixed spice.
In another bowl put 2 eggs, a third of a cup of sunflower oil, two thirds of a cup of semi-skimmed milk, about two cups (I didn't measure this) of cooked squash (I bake squash in the oven then de-seed and skin). Beat together with a balloon whisk.
Sift the dry ingredients into the wet ones. And fold gently together, add some raisins as you do this, you must not stir too much, leaving bits unmixed is good.
Spoon into muffin tins and decorate with pecans. Cook at about 190 C until they have risen and smell delicious and a bamboo skewer stabbed into the middle comes out clean! Enjoy!
On 30th October 2007 that amazingly talented gardener, Matron of 'Down on the Allotment', is hosting a
Squashblog
, a chance to see cucurbits of every shape and colour from garden bloggers around the world!
31st October 2007 . . .
And this is our Halloween Pumpkin - a "Winter Festival" squash baked whole in the oven. Carefully cut off the lid and scoop out the seeds and fill with the flesh from the lid . . . and . . . izzy-whizzy!!!*!*!*!*!*! An instant ready-filled pumpkin tureen!