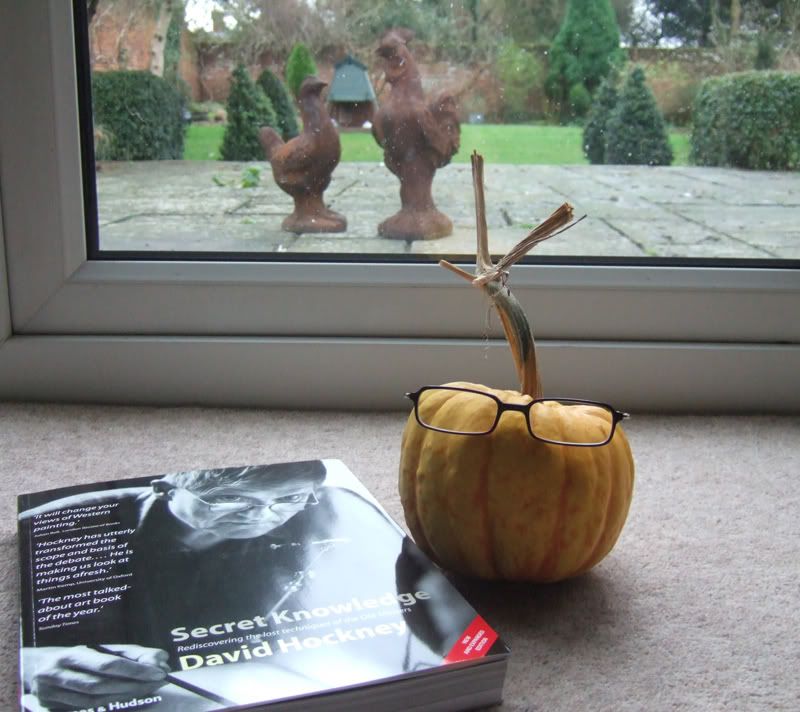 Yesterday I collected my new spectacles from the opticians – yes, I've been advised to wear specs for close work and reading. My designer specs are being modelled for you by one of my beautiful Winter Festival squash.
The book was my Christmas present from Cliff -
'Secret Knowledge' by David Hockney
. There was so much controversy when David Hockney first published his ideas about how painters in the past probably made use of lenses and mirrors as an aid to making accurate "photographic" images, rather than purely "eyeballing" (Hockey's word) the subject. I think it makes a good deal of sense and it is so refreshing to look at paintings in the company of an artist rather than an academic art historian. The reproductions of paintings in this book are outstanding and Hockney's observations are down to earth and backed up by his own experiments in using the optical devices. This is a fascinating book.
You may have noticed a statuesque hen and cockerel through the window - these were another (surprise) Christmas present. The under-gardeners were slightly nervous of them at first, but they now know the new-comers aren't competitors for the food so completely ignore them!