Over the past week the nights have been extremely cold (-5 and colder) but the days have been gloriously sunny. In our greenhouse which has a little frost-free fan heater, the max-min thermometer registers a range from +35C to +3, that's pretty challenging if you're a plant!
Here is a round-up of garden
highlights
during our 'extreme-February' . . .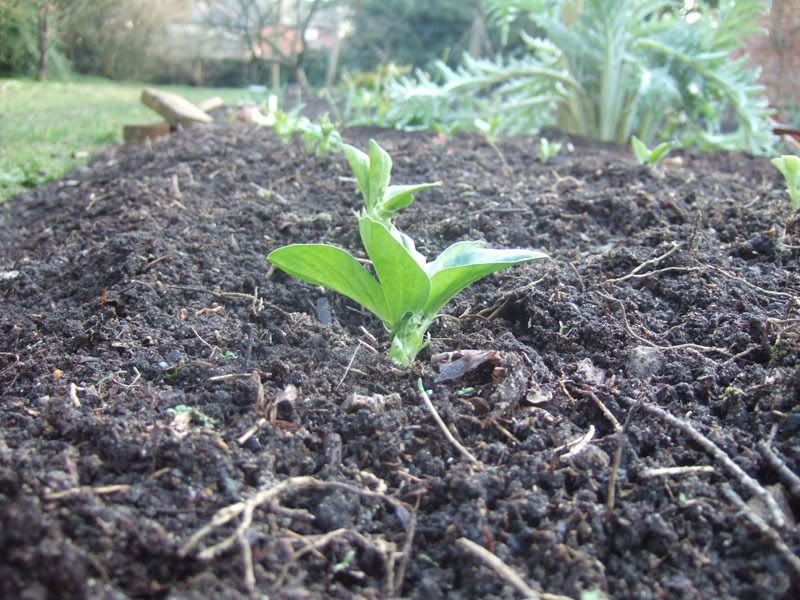 'Bunyard's Exhibition' Broad Beans sown direct outdoors on 21st November last year, are now growing strongly.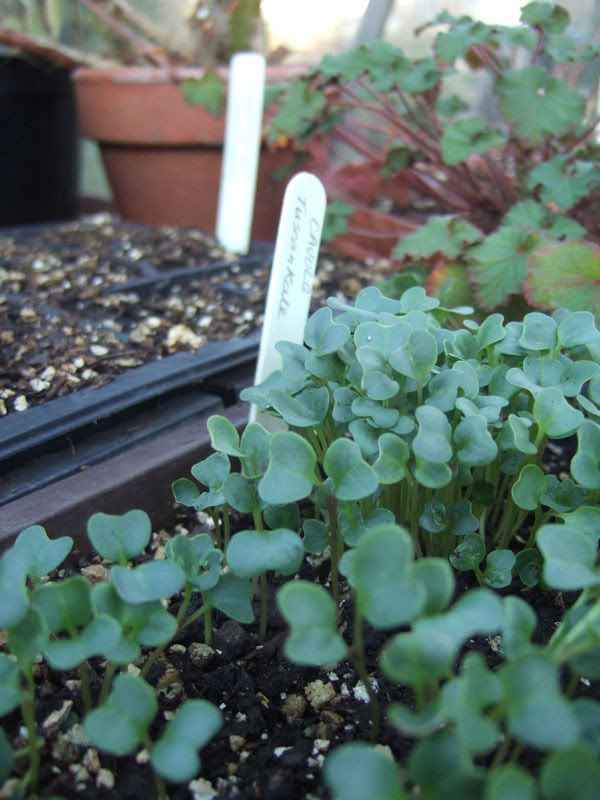 These Tuscan Kale seedlings germintated in a large heated propogator, they are now on the greenhouse shelf where they get lots of light. I'll prick out some to grow on in the vegetable garden and use the rest as
micro-greens
.
I am recording all the vegetables I am growing this year and their progress
here
.
Last year's un-naturally wet summer resulted in the 'Timperly Early' rhubarb plant rotting away completely. So I have bought a new rhubarb, 'Victoria', and it's planted in a new corner bed next to the greenhouse door. The under-gardeners enjoyed helping to dig out the new rhubarb bed and mix in the well rotted compost. I'm looking forward to picking home-grown rhubarb again (maybe not until next year) and I'll definitely be trying some of the delicious rhubarb recipes tested by Freddie on the
Great Big Vegetable Challenge
.
And here are some of my favourite things . . .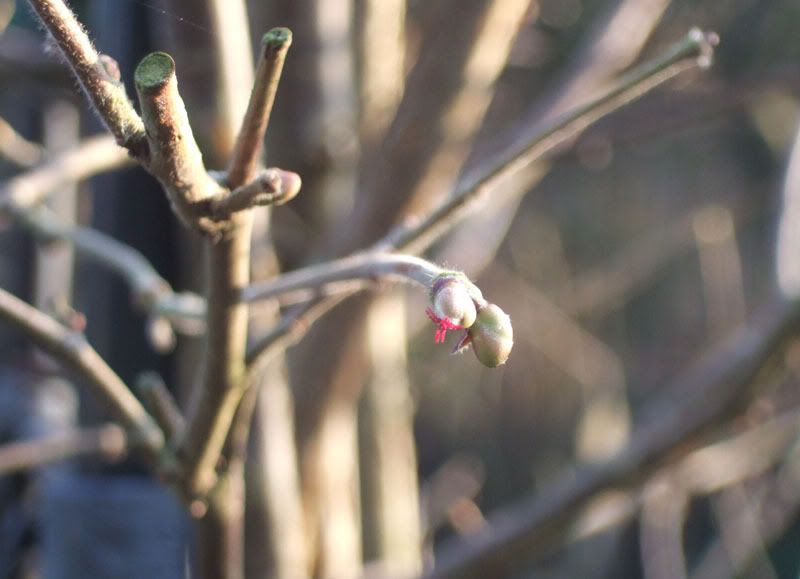 A tiny red flower on the 'Kentish Cob' equals a promise of nuts in autumn.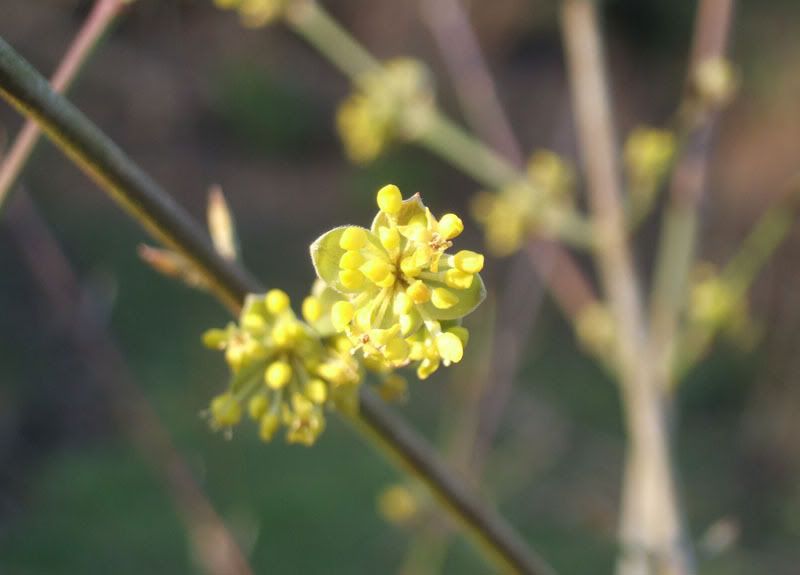 Cornelian Cherry flowers (
cornus mas
), perfect spring sun-bursts.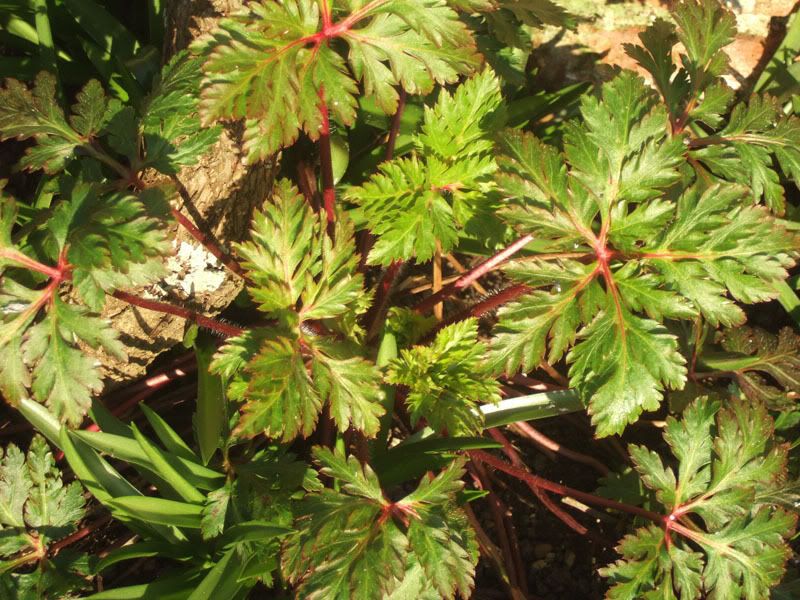 A rosette of beautiful green and red finely cut leaves of
geranium rubescens
, this is a well behaved biennial geranium from Madiera. It's like a giant Herb Robert and self seeds in dry sheltered corners, the bright pink flowers held on giant branching red stems will mingle perfectly with other plants. I love this plant!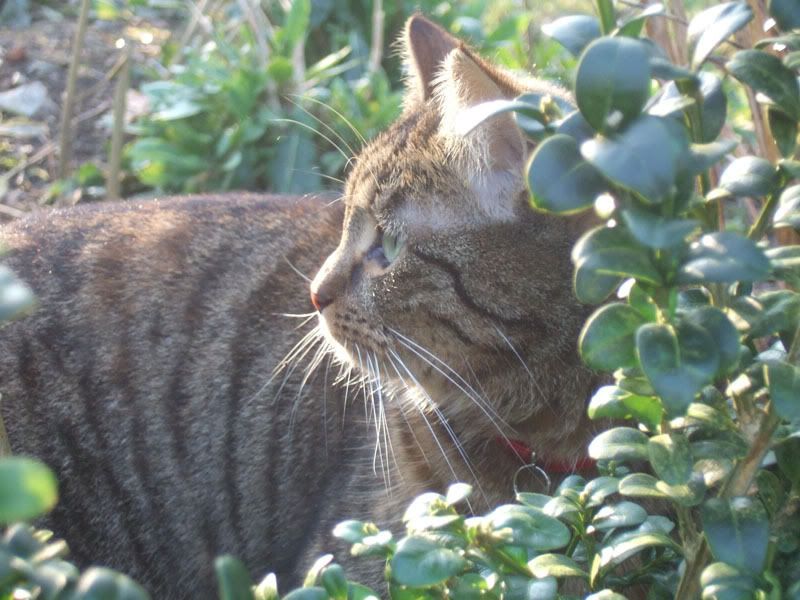 Wild-thing Chloe (studio and garden assistant) loves bouncing over and around the box hedging!