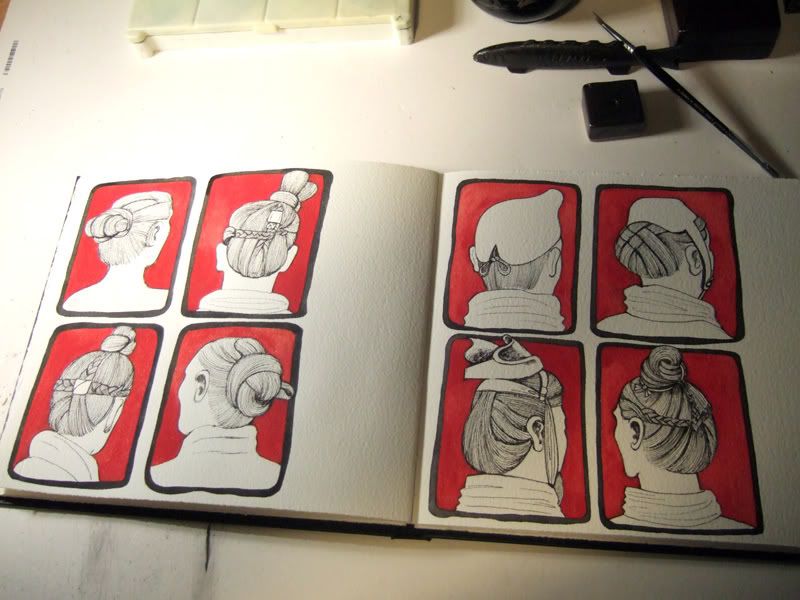 I've been reading the catalogue of
The First Emperor
exhibition which we visited last weekend. While at the exhibition I was fascinated by the beautifully detailed sculpted hairstyles of the terracotta warriors and wanted to know more about how they were made. It seems that the heads were made in moulds (a bit like chocolate Easter eggs) and then customised with hair styles and hats. The whole terracotta warrior making process was a well organised production line, with teams of workers specialising in just one stage – the person who 'did' braided hair must have been a real perfectionist! I would have loved to spend a few days in the exhibition with my sketch book and a comfy seat, but sadly that wasn't possible, I had to be content with the photos in the catalogue as reference for my sketchbook studies of the warriors' braided hairstyles.
A Chinese pottery production line was the subject of a recent Radio 4 programme in which the artist and
'Spitting Image'
satirist and now potter,
Roger Law
spent time working in Jingdezhen – the porcelain capital of China. He explained that each stage of the process of making a beautiful pot was carried out by a family run workshop who had specialised in that stage of the production process for generations – so if one of the links in the chain were to disappear, the skills learnt over generations would be lost forever.