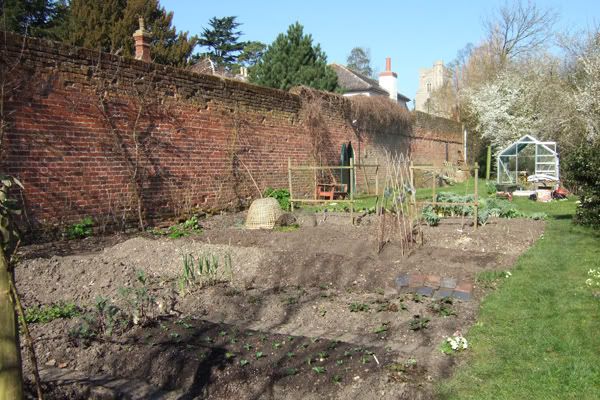 Welcome to Purple Podded Peas - my blog about what's happening in my studio and garden. When I'm not working on a design or illustration project for a publisher or producing a new linocut, I'm usually in the garden and at this time of year it's the vegetable garden. As the weather is amazingly warm, 18C it's a pleasure to be outside and I enjoyed a few hours hard work moving compost into the "squash mound" from the compost bins.
But it's time to get down to some work in the studio. On 24th March I will have a stall at the Reach Arts and Crafts Fair, Emma who is organising it, rang this morning to say the Cambridge Evening News would be sending a reporter/photographer along next Monday to do an article about the event and she wants as many of the artists as possible to be there for the picture. Also this morning I received information about the Cambridge Open Studios "Taster" and Launch exhibitions, so I need to select some new work to submit for selection.
My recent linocuts show images of animals sometimes within a landscape or surrounded by patterns inspired by the tiles I saw last year in Cordoba. I like pictures to have story to tell, either a personal experience or an ancient tradition or fable.
My work is inspired by Japanese woodcuts. I admire the elegant simplicity of the designs, underlying wit and superb craftsmanship. Linocut printing, a similar process to woodcut, needs a combination of skills apart from creating the design: I enjoy cutting the blocks knowing than unlike digital artwork you only get one chance to get it right! Inking the block carefully is crucial to making a good print, knowing the stickiness of the ink and the sound the roller makes on the block when the ink is just right. And finally pressing the paper onto the block – which I do by hand like the Japanese printmakers, rubbing the back of the paper and judging how much pressure is needed to get a clear print. I've just bought two new barens from Japan - these are the traditional tools used to press the paper onto the inked block. Mine are plastic (I'll have to save up for a real wood an plaited bamboo fibre one which are hand made to order!) and I found them on a very useful web site 'Baren Mall' and a week later they were here in my studio.